Monika HYRCZA-MICHALSKA, Ph.D.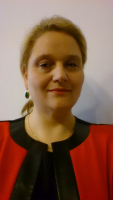 Silesian University of Technology, Poland, EU
At the METAL 2017 conference Dr. Monika Hyrcza-Michalska will present the invited lecture in session B: Metal Forming.
Dr. Monika Hyrcza-Michalska is specialist on metal forming. The major areas of her scientific interest are press forming, hydroforming and investigation on laser welded blanks and tubes formability. She is working at Silesian University of Technology in Poland as a senior researcher and lecturer since 2004. She was leader of 3 national scientific and development projects. She also was local coordinator in project SIM-TWB founded by 6th Frame Programme of European Union. This SIM-TWB project was dedicated to increase application of laser welded blanks in automotive industry by using accurate numerical simulation. That simulation based on material model and pointed out complex welded blanks characteristics. Monika Hyrcza-Michalska has wide experience in physical and numerical modelling of materials and manufacturing processes; preparing, testing and describing materials complex properties and characteristics, especially forming limit curves and diagrams for sheet metals and welded blanks. She tested many different types of sheet metals; many of them had increased strength (like martensitic steel MS1000, dualphase steel DP1000) or reduced plasticity (Inconel 718 alloy). She is interested in forming methods practice to make high level knowledge more useful at metal forming industry. Her experience she put into many publications in scientific Journals.
She is cooperating with many sheet metal industries in Poland (eg. DELFO POLSKA S.A., FORMPOL Sp. z o. o., General Motors, Kirchhoff Polska, etc.) and Polish Welding Centre of Excellence in Gliwice and many Technical University in the range of stamping processes designing, laser welded blanks manufacturing, tubes hydroforming, definition of production guidelines, processing guidelines. I have some publication in this mater presented in volumes and on many thematic conference in Poland and Europe (over 50 publications in scientific Journals).
She has been one of the speakers at the session of International Management und Strategy Congress, BLECH business'06, organized Oct 24. - 26. 2006 in Hannover, Germany and my speech topic was: "Growth markets in Sheet Metal Working Industry - Eastern European Market".
13. - 14. 11. 2016 She has been invited lecturer by Slovak University of Technology, Faculty of Materials Science and Technology, Institute of Production Technologies in Trnava, Slovak Republic. She had 2 lectures there: "The methodology of determining the forming limit curves using the method of grids analysis and photogrammetric systems" and "Application of hydroforming for manufacturing of high strength charge materials" and also the seminar under the title "Physical and numerical modeling of the process of a liquid forming of nickel superalloys thin sheets".

Education
2014 - 2015

School of Management and Languages in Katowice, postgraduate studies in "Project management according to PRINCE2" – certificate of professional level skill

1999 - 2003

Silesian University of Technology, Faculty of Material Science and Metallurgy, Doctor of Technical Science (Ph.D.) Title of the thesis: "Analysis of joining zone influence on drawability of tailor welded blanks."

1994 - 1999

Silesian University of Technology, Faculty of Material Science and Metallurgy, Studies in Metallurgy; Master of Science and Engineer (MSC.

Eng.

), speciality: metal forming and heat treatment of metals, Title of the thesis: "The reasons of debasement of impact resistance for the toughening steels."
Professional Experience
| | |
| --- | --- |
| Since 2004 | Academic teacher and senior researcher in The Silesian University of Technology, Faculty of Materials Science and Metallurgy, actual status: adjunct, expert in metal forming processes, chief of the Laboratory of sheets and strips drawability tests in the Institute of Metal Technology since 2005. |
| 2004 - 2007 | Manager of the research project founded by Polish Ministry of Education and State Committee for Scientific Research Grant No. 3 T08B 035 27 "The analysis of laser welded blanks hydroforming". |
| 2006 - 2008 | Person in charge in the name of Silesian University of Technology in European Co-operative Research Project: Accurate simulation of tailor-welded-blanks to reduce process design time for the sheet pressing industry, SIM-TWB no: 032657. |
| 2009 - 2013 | Manager of the national development project founded by The National Centre for Research and Development N R15 0042 06 "Development of methods for computer-aided design process of stamping products for the aerospace industry". |
| 2014 - 2015 | Adviser researcher, research and development consultant in stamping plant of Procars Sp. z o.o. in Tychy, over 1 year practice at automotive press shop as specialist for the development of production. |
| Since 2015 | Professional level manager in PRINCE2. |