Prof. Ing. Bohumír STRNADEL, DrSc.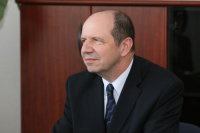 VSB - Technical University of Ostrava, Czech Republic, EU
At the METAL 2017 conference Prof. Bohumir Strnadel will present the invited lecture in session C: Steel Products - properties.
After graduation at Czech Technical University of Prague, Faculty of Nuclear and Physical Engineering in 1981 he added Vítkovice Steel Works, Ltd. Ostrava. Since 1990 he had been active at VŠB-Technical University of Ostrava (department of Material Science and Engineering), firstly as associated professor and after short time as professor. In years 2006 - 2013 he was vice-rector of the VŠB-TU Ostrava, in range of 2010 - 2014 he worked in Academic board of the Czech Academy of Science and in 1995 and 2000 he took lectures as visiting professor at Ecole Centrale Paris (France). Since 2015 and 2016 he had been active professor of Yokohama National University (Japan) and Hubei University of Technology – Wuhan (China). At present time he works as director of Advanced and Innovation Technologies Centre of VŠB-TU Ostrava. His activities include evaluations of research and development project results, cooperation with industrial partners in innovation activities and works as reviewer of Engineering Fracture Mechanics and of Applied Fracture Mechanics. His rich research and scientific activities has been orientated to material engineering degradation processes of materials, fatigue of materials and microstructural fracture mechanics. Prof. Ing. Strnadel, DrSc. published about 80 articles in scientific journals, 48 research reports, one book and elaborated about 40 expert reviews. Results of his work also presented in 38 conference contributions.