Carmen Penelopi PAPADATU, Ph.D.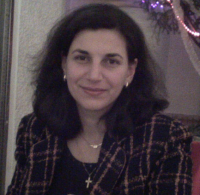 "Dunarea de Jos" University of Galati, Galati, Romania, EU
At the METAL 2017 conference Dr. Carmen Penelopi Papadatu will present the invited lecture in session D: Modern Trends in Surface Engineering.

Education and training:
2016 - Manager Project Courses.
2012 (56 hours) Course "Training of academic staff in the use of modern tools in university management" in POSDRU / 86 / 1.2 / S / 62689. English Language Course (B2) - "Dunarea de Jos" University.
03.09.2007 - 03.12.2007, postdoctoral research internship abroad (scholarship N.Titulescu). Research title was: "The environmental policies and strategies implemented in the Balkans after the integration in European Union". Venue: University ΠΑΝΤΕΙΟΥ (Panteion) - Atena – Greece (ΙΠΑ Center).
Until October 2005, Ph.D. student at the University "Dunarea de Jos" from Galati. Ph.D. title in Materials Science and Engineering was obtained in 02.02.2006. The title of the thesis was: "Researches regarding the improving of characteristics and increasing the reliability properties of steels used in the construction of machinery for metallurgy".
In 2001 - graduation from the Faculty of Economics and Administration, from "Dunarea de Jos" University, Galati, Romania. Specialization: Management Company.
1994 - 1995, Postgraduate Studies (Master Degree) at Department of Materials Engineering, Faculty of Metallurgical Engineering, from "Dunarea de Jos" University, Galati, Romania. Specialization: Metallic Materials with Special Properties.
In 1994 - graduation from the Faculty of Metallurgy and Materials Science, specialization: Plastic deformation and heat treatments, "Dunarea de Jos" University of Galaţi, earning the title of engineer.
1993 - 1994, Courses of "Pedagogy-Teaching", "Dunarea de Jos" University, Galati.
(Feb - Oct) 1988 - course "Programming and Analysis of Management Information Systems and Products (F6)" - (Certified Computer Programmer Analyst 15 / 02.07.1989, Series A / 3635).

Work experience
Author and co-author of more than 55 publications (2 scientific books and 2 courses books - as a unic author, scientific articles indexed in Web of Science (6) or BDI, conferences and a seminar papers book) specialty items (Materials Engineering, Economics and Environment) published in the country and abroad.
Since October 2013 (currently) - University Lecturer (Assist.Prof.-associate) of "Dunarea de Jos" University, Galati, Romania.
Since 2002 - Assistant Professor Ph.D. (associate or titular), junior lecturer at Department of Materials Science and Engineering (SIM), Faculty of Materials Engineering and the environment, "Dunarea de Jos" University, Galati, Romania.
Jan 1

st

1995 - Apr 20

th

2002 - Quality Engineer (Quality Management System Implementation inmetallurgy), SC ICMRS-SA Galati.
Since 2001 - Member of the organizing committee of the various committees of scientific and scientific evaluation sessions, scientific coordinator of several award-winning papers at the Scientific Session and scientific coordinator of several undergraduate papers of students.Member of the Research Center "Materials and Environmental Quality". Member of the Romanian Association of Tribology (ART) since 2003.
Since 2016 - Member of Editorial Board of International Multilingual Journal of Science and Technology.
1993 - 2008 - Head of Cultural Department of Greek Community, Galati, Romania.

Languages: English (B2), French and a little Greek language.

Technical skills: Achievements in the field of unconventional treatments in a magnetic field, applied to steels used in metallurgy, good results obtained in the field, good communication capacity, competent training.